When I was pregnant I probably watched every single video recommending products for newborns, and what to get for new babies, and what you just NEED to have. I recently realized that a lot of these products don't really get used for a long time, like swaddles, technically speaking you're supposed to stop swaddling either at 8 weeks or when they start rolling over, whichever comes first. I probably spent over $100 on swaddles not knowing I couldn't use them for very long, I'm not saying don't buy swaddles, they're essentials, just don't buy as many as I did. I'm going to list some products I bought for Bella when she was just born that she still uses today at almost 10 months old, I will also provide links to purchase on Amazon, I find them the cheapest on there. In the end, I'm going to list products that are hyped in the parenting world, that I personally didn't get much use out of or were only good for when she was only a couple of months old and I will explain why.
1. Sophie the Giraffe.
I know, I know, you've heard this one a million times but there is a reason I'm including it. I heard about Sophie a bunch of times too but I wasn't about to spend $25 on a simple rubber toy, however, my parents bought it for Bella when they came to visit when she was around 3 months old and she loved it so much, she could chew on that thing for hours. She still can chew on that thing forever, it's amazing for teething, I recently got rid of it because after 6.5 months of use Sophie was looking a little rough but I do plan on buying her a new one.
Click to buy Sophie the Giraffe on Amazon.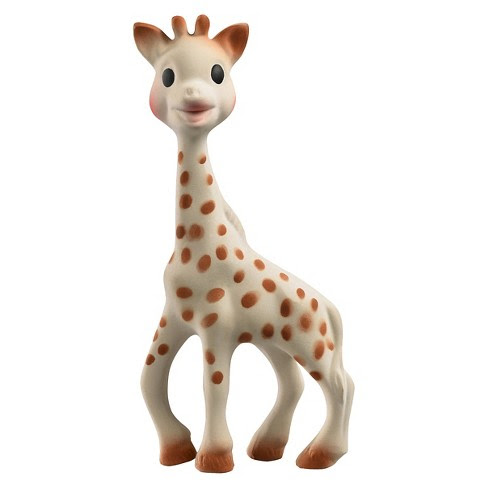 2. Teething key ring.
This one seems a little basic and nothing impressive but Bella has loved this thing for so long, she has plenty of teething toys but Sophie and these keys are her favorites, she has two of these. They're super cheap, sturdy, and best of all, easy to clean. I also bought a second set of these and use them as bath toys.
Click here to buy the exact teething key ring I bought Bella.
3. Travel system.
A lot of people like to buy a convertible car seat and then a separate stroller but you can't remove a convertible car seat and click it into a stroller. I know you're going to have to replace the car seat eventually since it is an infant car seat but I found using a travel system was so much more convenient because all I had to do was pop the car seat out of the base and click it onto the stroller. The best part of the travel system I bought was the height and weight limit was better than most, Bella is almost 10 months old and she hasn't exceeded them. The car seat can accommodate babies from 4-35 pounds and up to 35 inches, the stroller can hold a child up to 50 pounds, so after they outgrow the car seat you can continue to use the stroller. Stores like Target usually do an annual event where you can turn in your old car seat and receive store credit or some money off a new baby product.  I bought the Graco Aire3 click connect travel system which I will link below.
4. Muslin blankets.
I'm sure you've heard of them if you're a parent or about to be a parent but these blankets are honestly the best and I've tried a few different ones. First of all, these blankets are huge which is the best part for me, I used them as swaddles when Bella was just born and I use them today to cover her legs and feet in the car seat, to clean her mouth after she's done drinking milk, I also use them as bibs sometimes, I just tuck them into her shirt or onesie, I use them mostly to clean up her messes. They are on the pricier side of blankets so I only bought six but they are worth the money. I ended up finding some a little cheaper on Amazon.
Muslin Swaddle Blankets by CuddleBug
5. Pack N Play
A pack n play was the best product I've ever purchased for Bella, we bought her a crib before she was born but never got around to buying a mattress because we planned on keeping her in the pack n play in our room until she got older, around 5 or 6 months. She ended up staying the pack n play until around 7.5 months because we never had any problems with it, slept fine in it, and hadn't exceeded the weight limit. We recently bought a crib mattress and switched her to a crib in her own room and she still sleeps 12 hours a night. We use the pack n play now as somewhere to put her in with a few toys while we go to the bathroom or get some food and eat really quickly. I've seen on Pinterest people transforming old pack n plays into daybeds or play areas with the mesh cut out, definitely something I want to do as some point!
Dream On Me Zodiak Portable Playard
Those were some of the best products I bought for Bella either when she was just born or before she was born that we still use and will probably continue to use for the next few months at least. Now, I want to talk about products that I felt pressured to buy and didn't really work for me or I didn't get much use out of, there aren't many so I'm just going to talk about them really quickly. First, the Boppy, that pillow is so annoying, I would pick up Bella to feed her and when I sat down I realized how difficult it was to get the Boppy around me with one hand, I never fed her on the bed, always the couch and I didn't want to set her down on the couch to get the Boppy around me. It was great while my husband was on paternity leave since he could hold her while I put it around me but after he went back to work, I never used it again. Second, the Wubbanub, Bella never liked the nipple on that pacifier, I think it was too thin and the shape was very slim. The Wubbanub also never, ever stayed in her mouth or even on her chest, it always slid off and to pay $15 for a pacifier is already crazy, I recommend buying a regular pacifier or if you really want the Wubbanub for your baby, buy one and see how it goes first. Bella uses the MAM pacifiers. Third and last one, a mobile for the crib, having a mobile on a crib really isn't like the movies, it's not going to keep your baby calm and in a trance and put them to sleep. Nope. All it's going to do is keep them awake and distracted. Our pack n play came with a mobile type of thing but it was more of an arch going around the pack n play with stars, it didn't light up or play music and it still distracted her and kept her awake, which eventually led to her getting hungry again and no sleep. Never put it back on again. Thank god we learned our lesson from the pack n play and didn't get the mobile for the crib that matched her nursery for $65.
Hope you all enjoyed. Thank you for reading.
Here are some promo codes from Amazon for you guys!
Save 15.0% on select products from Cloud b with promo code 15MAYPROMO, through 6/2 while supplies last.
Save $3.00 on select products from FridaBaby with promo code 3FREETHEWIND, through 6/3 while supplies last.
*DISCLAIMER: All links except the travel system are affiliated by Amazon.*